The Eagle Difference
The Eagle Group is not only a world-class metalcasting and machining company, but a company with deeply rooted values and a dedication to social responsibility. We owe our high customer-retention rate both to our quality products, and to a consistent, customer-first approach that focuses on building solid relationships within the manufacturing industry.
History of The Eagle Group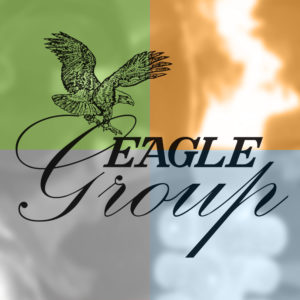 Eagle Alloy, Inc. was founded in 1979 by Mark Fazakerley and Wayne Jarvis to meet the needs of customers looking for a short-run steel and stainless steel foundry. Shortly thereafter, John Workman joined to help grow the business. The three struck a rare and very successful cord as they built Eagle Alloy into a medium to high production steel foundry that aggressively competes globally and is considered to be one of the finest overall steel foundries in the country.
In 1991 they saw an opportunity to venture into the Investment casting market and founded Eagle Precision Cast Parts, Inc. Eagle Precision is also enjoying tremendous growth with sales increasing an average of 10-25% year to year. Eagle Precision's versatility and responsiveness continue to appeal to those looking for the finest investment castings in the shortest period of time.
In 1999 it was decided that the demand by customers for completely machined product was strong enough to invest in a full-service machining facility. Thus Eagle CNC Technologies was born. After merging this business unit with a well-established, ultra-modern machining provider in 2007, ECT has played a strong part in the growth of the Eagle Group by providing the quality service and workmanship needed to develop a truly satisfied customer base.
Wayne has since retired but stays active with metallurgical projects.
Another opportunity arose in 2002 that allowed Mark and John to purchase an existing aluminum foundry that had the ability to build patterns. A new facility was built to house the permanent mold portion. In 2019 the Eagle Group sold Eagle Aluminum Cast Products.

Known as the Eagle Group, together we are a one-stop service provider for all metal casting and machining needs. We are also one of the largest private employers in the greater Muskegon area, and we welcome the opportunity to show you around.
Our Values
In order to achieve the long term vision of the organization, the Eagle Group relies on associates at all levels who live and work by the following values.
INTEGRITY
Value actions that are fair, responsible, and proper above all else. Conduct all activities according to the highest ethical standards and measures of social responsibility.
RESPECT
Recognize that everyone, and everyone's work, is important. Give the responsibility, authority, training, and tools necessary to make decisions to the person closest to the activity.
ACCOUNTABILITY
Take responsibility for our own assigned tasks and the performance of our workgroup. Focus on ownership versus blame when encountering setbacks. Demonstrate a can-do attitude by taking initiative.
TEAMWORK
Value working cooperatively with other at all times.
CONTINUOUS IMPROVEMENT
Foster an atmosphere that values quality, constant improvement, and creativity: encourage prudent decision making; and use mistakes as an opportunity for learning.
HONEST COMMUNICATION
Establish effective, honest, and open communication among all employees, business units, and customers.
FLEXIBILITY
Be quick and flexible in responding to new opportunities and meeting customers' needs. Embrace necessary change.
Ethics & Social Responsibility
Conflict Minerals
The Eagle Group values its reputation as a high quality, responsible supplier of steel castings that does business with companies that share our commitment to ethical business practices and compliance with the law.
We share your commitment to avoid contributing to human rights violations in the DRC or anywhere else in the world and are sending you this letter to address possible concerns that you may have about complying with the SEC's regulations on "conflict minerals".
The Eagle Group does not use or purchase any "conflict minerals" to include Cassiterite, Coltan, Tungsten, Tantalum, Tin, Wolframite and Gold from the DRC area.
Read full statement (PDF): Conflict Minerals and Supply Chain Due Diligence
Hazardous Substances
Eagle Alloy hereby confirms that in case of all product(s) attached to this declaration we always observe the prescriptions of RoHS2 (Directive 2002/95/EC RoHS Directive and with Directive 2011/65/EU of the European Parliament and of the Council of 8 June 2011) regulation and the product(s) are fully compliant with the relevant regulation.
RoHS2 compliance means that all substances contained in this product:
has/have been pre‐registered and/or has/have been registered by our company and/or our suppliers, and/or
is/are excluded from the Regulation, and/or
exempted from registration Observance of the prescriptions are also demanded by us from our suppliers, and it is continuously checked.
Read full RoHS Compliance Statement
Charity & Volunteer Work
The Eagle Group shows its social responsibility through economic support and volunteerism to over 40 charitable organizations, including:
American Red Cross
Big Brothers Big Sisters
Boy Scouts of America
Child Abuse Council
Community Foundation for Muskegon
Junior Achievement
Lakeshore Youth for Christ
Love INC
Mercy Health Partners
Muskegon Chamber of Commerce
Muskegon Community Foundation
Muskegon Museum of Art
Muskegon Rescue Mission
Salvation Army
Sportsmen for Youth
United Way
USS Silversides
West MI Teen Challenge
West Michigan Symphony
Wings of Mercy
Associations
Eagle Group companies are members of the following metalcasting and machining associations: