Metalcasting Services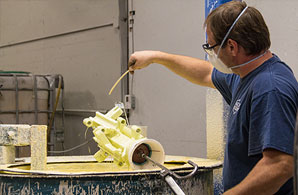 At The Eagle Group, our metalcasting services start right at the beginning. Our engineering teams routinely work with customers early in the design stages on larger, long-term projects, providing our expert machining and casting advice to ensure parts are designed for manufacturability (DFM). The outcome is a part that performs to the standards our customers require and is produced as cost effectively as possible. It is true value engineering (VE).
Identify Cost Driving characteristics
Recommend ideal datum schemes
Explain potential trouble areas
Customized process design

Custom

tooling

and fixtures
Strategic capital investments
Determining Your Needs
Not sure which casting method is right for your project? Before you start shopping for metalcasting services, here are some key questions you should ask yourself:
1) What material is the part to be made of?
2) What are the projected order quantities and annual quantities?
3) What is the desired surface finish?
4) What tolerance range is necessary?
5) Is there significant machining required to the finished part?
6) Initial tooling costs differ greatly from one casting process to another. Which is more important to the project: tooling price or casting price?
Knowing the answers to these questions will help guide you toward the optimum casting method and help you avoid over-spending.
Use the information provided in the "Choosing Your Casting Method" option to learn more about our metal casting services, or simply contact any one of our sales or engineering professionals to put our expertise to work for you.
Methods & Specifications
Eagle Alloy
The shell mold process is the industry standard for medium to high volume, commercial grade metalcasting projects.
Eagle Precision Cast Parts
The Induction air melting process used at Eagle Precision can accommodate most ferrous or nonferrous alloys.
Finishes Available
Typical Surface Finishes:
Eagle

Alloy

– Shell

Mold

: 200-300

RMS

Eagle Precision Cast Parts –

Investment

: 125 RMS
Size & Weight Limitations
Eagle Alloy
Typical tolerance held: +/-.030" per inch
Typical weight range: 2 lbs – 400 lbs net
Largest overall dimensions: 30" x 40" x 14"
Typical production quantity: 100 pcs – 5,000 pcs per run
Eagle Precision Cast Parts
Typical tolerance held: +/-.005" per inch
Typical weight range: 1 oz – 85 lbs
Largest overall dimensions: 24" x 24"
Typical production quantity: $750 minimum order